Persian food is very diverse due to the country's size, climate and its different ethnicities and cultures.
Keep in mind that each city, province or region has its own cuisine. You can get the necessary information in the city guide section. The following Persian foods are usually easily found everywhere in Iran.
In the following, we will mention the most delicious Persian foods you must try in Iran from the point of view of both tourists and Iranians, which you should not miss the experience of tasting them.
ASH-E-RESHTEH
Ash-E-Reshteh is popular among Iranian families, especially in the cold seasons of the year.
This Persian Food is the most famous Noodle soup in the whole country.
Ash-E-Reshte is cooked with fresh vegetables, beans and noodles.
It is served with fried onion, fried mint and Kashk (whey sauce). This food with hot and fresh Nane Sangak (Sangak bread) will bring you an unforgettable experience.
If you travel to Iran in the cold season of the year, be sure to include Ash-E-Reshte in your meals.
You can have this food in both lunch or dinner.
If you are a vegetarian, this plan–based food can be one of your options during your trip around Iran.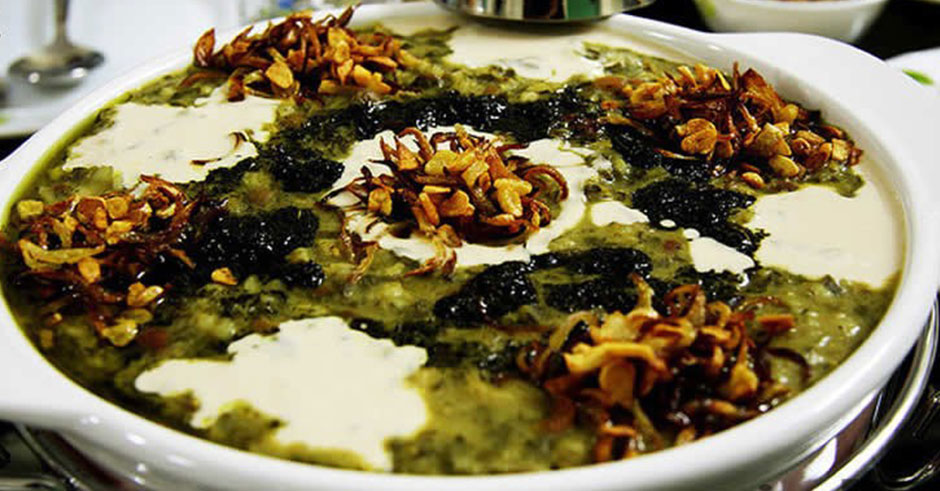 ABGOOSHT OR DIZI
One of the most popular and traditional Iranian dishes is Dizy or Abgoosht (broth). wegoiran.com suggests eating this food in the cold seasons of the year, as a lunch or dinner.
Ingredients of this food are mutton, beans, peas, tomatoes, onions, potatoes, dried lime (Omani lemon), lemon juice or verjuice, tomato paste and spices such as cinnamon, turmeric, pepper, salt and saffron.
Eating this food has its own customs and traditions. In this way, the water is poured into another container and the rest of the ingredients such as meat, potatoes, beans … are kept in the main container and the materials are beaten with a meat grinder.
The broth is served with fresh Nane Sangak (stone bread) or Nane Barbarry and onion, fresh vegetables, yogurt or pickles and drinks such as Doogh and Coca
Normally you should chop small pieces of bread in your broth and enjoy.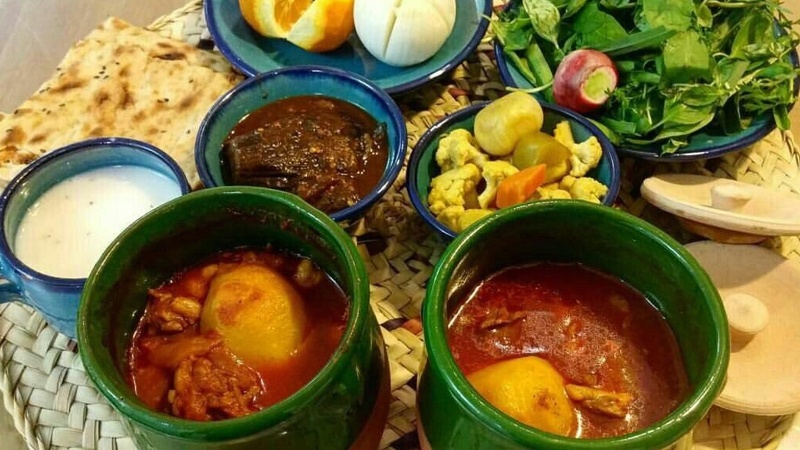 Kalam Polo
Kalam Polo is a popular food among Iranians that is cooked in different ways throughout Iran, but it is specifically a local food of shiraz.
Kalam Polo Shirazi is a food that will surely surprise you with its aroma and taste.
In the Persian language Kalam means cabbage, and Polo means rice
So it is obvious that the main ingredients of this food are rice, cabbage, and meatballs and fragrant herbs.
The composition of Herbs in Kalamo Polo is unique and includes leeks, tarragon, basil and dill. All of them can be used fresh or dried.
This dish is usually served with Salad e Shirazi, pickles or yogurt.
You can experience how to make this authentic Shirazi food with wegoiran company in Shiraz Daily Tours or Food Tours.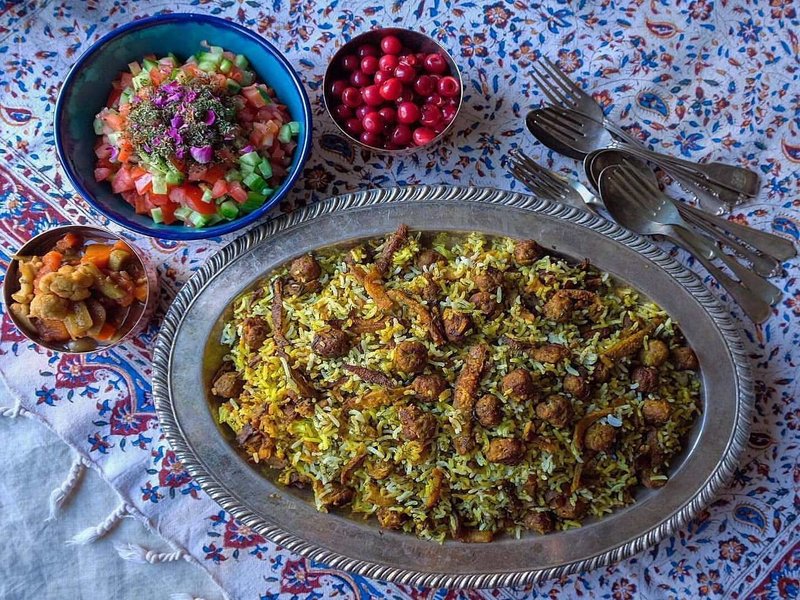 KASHK-E-BADEMJAN
Kashk Bademjan (کشک بادمجان) is one the most common appetizers in Persian Cuisine, including fried eggplant, topped with whey, garlic, nuts and mint which is always offered at restaurants.
Whey is the liquid remaining after milk has been curdled and strained. It is white and has been recently become very popular in the west as a nutritious ingredient. Well, this power food has been a part of Persian Cuisine for a long time.
Kashk Bademjan is very delicious and no one has ever failed in trying it out!
If you are a vegetarian, this plan–based food can be one of your options during your trip around Iran.